CHMC Market Update and Forecast:
The Canadian Mortgage and Housing Corporation just released its fall update, citing valuable information pertaining to London's real estate market.  A full report can be found HERE, and we have summarized the findings and data below:
Average MLS price to fall between $282,000 and $290,000, with lower price growth expected in 2018.
First quarter of 2016 showed increase in sales, in part due to unseasonably warm weather. Pent up demand is also responsible for such a strong start.
Due to a quick incline early into the year, growth was slower as the year progressed.
Sales increase 8-10% from 2014 to 2016, well beyond highest levels reported before the recession in 2007.
2017: sales expected to ease up due to:

Pent up demand diminishing
Higher carrying costs with new mortgage rules and rates
Increased prices.  This will have a greater impact than upwards pressure from Buyers migrating to the area from GTA and job growth.  Household income will not inflate at the same rate as increased costs, pushing a small number of Buyers beyond affordability and qualification for a mortgage

Continued migration from GTA will impact London's market as housing prices are 2.5 times higher than in London.
Slight growth forecasted in average price for remaining of year. Average price to finish between $274,000 and $278,000, characteristic of a balanced market.  In St. Thomas, sales and statistics still in favour of a Seller's market.
2017: price range to fall between $282,000 and $290,000 as average price.
2018: average price forecasted to sit between $290,000 and $305,000. Slightly lower growth is expected, with sales to decrease and listings to remain steady.
Rental Market:

Vacancy rates to remain steady at 2.9% in October 2016.  Forecasted to increase to 3.1% in 2017, remain steady at 3.1% in 2018.
Higher number of immigrants will keep occupancy numbers stable
Average rent for 2 bedroom unity will grow slightly compared to 2015
Higher number of renters predicted to vacate properties in favour of purchasing property.
Average rent for a 2 bedroom unit: $963 to $985 in 2016, and $1005 in 2017.

Mortgage Rates:

Posted 5 year rate expected to be 4.5-4.9% in 2016 and 4.4 to 5.2% in 2017.
4.5-5.7% range expected for 2018
Fall 2016 Market Update:
London's real estate market has seen unprecedented growth over the last year.  We are now experiencing full recovery since the economy crash in 2008, with sales levels exceeding those of our best producing months during historically strong seasons of the real estate market.
April, May, June, and August finished exceptionally well with sales breaking new records.  Year to date sales are reported to have increased over 9%.  The beginning of the fourth quarter shared this trend, with activity up 3.1% since September 2016.  Nationally, Ontario reported gains of 12.7%, though larger cities in the GTA positively impacts the number relative to the London market. 
As far as prices go, the average year-to-date price for a single detached home in London, Ontario currently sits at $296,283, an increase of 5% since last year.  Condo prices have risen too, currently averaging $201,061 (up 5.9% since last year).
Inventory remains low, favouring Sellers and keeping prices high.  With close to 30% less listings to choose from, and a growing number of Buyers vying to purchase a property in the London area, competition remains steep.  Sales have been fast, and multiple offer scenarios remain common, even during the summer months when the market tends to moderate itself.
What is driving the market?
Increased number of Buyers.

 

Young professionals are gaining momentum as a demographic settling into careers and investing in real estate.

Out-of-town Buyers are entering London's market.

 

Recognizing the value of properties in London relative to other major cities in Canada, many are purchasing property in London as an investment, or even relocating to improve their quality of life from cities where real estate values are less attainable.

Interest rates remain low, increasing affordability and allowing would-be renters to invest in a property of their own.

Baby boomers continue to keep the market active as they downsize into condominiums or properties where they can 'age-in-place'.

Overall population growth may be a factor worth noting.

 

When this is considered relative to the reports obtained, sales remain below the peak reached in 2007.

 

The strength of the market can be attributed, in part, to the simple fact that more people are living here, and more people are purchasing real estate.
What can we expect to see in the last quarter and into 2017?
A nominal decline of 0.6% is projected in sales activity.

 

Nationally, prices are expected to ease by 0.2% in 2017.

As prices increase and mortgage rules tighten, affordability will be impacted which may slow activity.

A continued lack of supply may also dampen sales slightly.
Sources:
http://www.crea.ca/housing-market-stats/quarterly-forecasts/
http://www.lstar.ca/news/best-september-ever-0
January 2016 Market Update:
Real estate sales in London, Ontario have seen full recovery since the economy slowed during the recession in 2007.  2015 proved to be a fantastic year, with the second highest level of sales in the history of the London and St. Thomas Association of Realtors.   Overall, sales were up 9.9% over 2014.  Average price overall currently stands at $264,435 (January 2015), which represents an increase of 4.1% since the previous year.  Additional growth is expected for 2016 due to job growth, affordable carrying costs, and lower unemployment rates, as well as new migration to the city.
An increase in sale price is expected to land at approximately 4% for 2016, and growth is expected to be weighted more heavily in the first half of the year as sales increase and listings remain stable.  We anticipate that listings will pick up in the second half of 2016 as a result of price growth earlier in the year.  A balanced market is anticipated, though sellers are favored for lower-priced resale properties.  Migration will also support housing demand in 2016 more than we have seen over the last 6 years.  Data indicates that immigrants who moved to Canada in 2009/2010 will now consider entering the housing market.  The 25-34 year old population is also expected to positively impact housing formation, and ultimately, the housing market.
We can expect mortgage rates to rise towards the end of 2016.  This, along with rising home prices, will slow the market towards the end of the year.  Housing demand is not expected to be impacted as qualifying income for a mortgage approval will remain low and available to many.  A one-year mortgage rate is projected to be in the range of 3.0-3.8%, and a five-year mortgage is projected to be in the range of 4.7-6.0%.
Looking ahead to 2017, sales are forecasted to be higher than 2016 due to additional job growth and stability, as well as growth noted from 2016.  CMHC anticipates a rise of 2.5% in sale price through 2017.  We may see an increase of listings – additional supply – which will ease the demand, and explains less growth in pricing overall.  Mortgage rates are expected to be 3.9-4.8% for a one-year term, and 5.1-6.5% for a five-year term.
Further information can be found on CMHC's website and their most recent market update, as well as from the London and St. Thomas Association of Realtors, and their latest report.
Fall 2015 Market Update:
The Canadian real estate market has seen lots of action over the course of 2015.  Home prices continue to climb as momentum continues to build. Housing market trends indicate that the London Ontario real estate market has fully recovered since the economy crashed in 2008.  Buyer confidence has returned, a stable economy has propelled sales and historically low interest rates have boosted activity.
For a consumer in London, Ontario, what does this mean? What is the average home price in London?  Here are some numbers at a glance to put housing prices in perspective:
840 homes were sold in September 2015 in the London
Sales were up 23.2% for this time compared to last year
Overall, sales have increased 10.8% over 2015
Average price for a detached home stands at $282,241 (year to date for 2015)
Prices, on average, have increased 4.3% for a detached home
Average price for a condo stands at $191,197 (year to date for 2015)
Prices, on average, have increased 4.6% for a condo
Considering all real estate inventory in the London/St. Thomas region, sales show a 4.2% increase
Average price of a 2 Storey currently sits at $364,710
Average price of a Bungalow currently sits at $205,910
Average price of a Ranch currently sits at $318,393
Average price of a Townhouse currently sits at $154,951
London property values continue to be deemed very affordable relative to other city-centres in Canada (see image for a snapshot of how London compares!)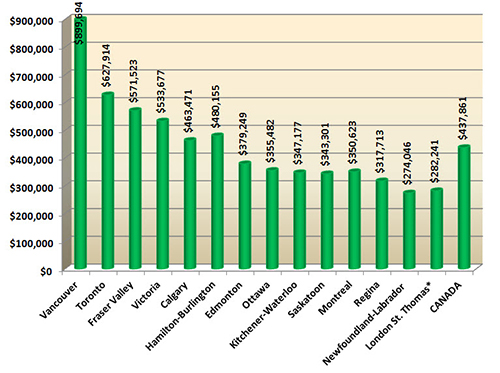 There's no doubt about it, the London housing market has experienced amazing growth, and continues to track at an unprecedented pace.  Rising property values are beneficial to sellers, and increased sales spur the economy in abundant ways.  There are great opportunities to be seized for both Buyers and Sellers in our region.
Check out statistics provided by our local real estate board for further info.
2015 Forecast:
The Canadian Mortgage and Housing Corporation's Housing Market Outlook provides a comprehensive analysis of what London can expect from its Real Estate market in the year to come.
Baby Boomers will drive condominium sales and new starts to maintain stability in this market.
Rental starts will remain stable into 2016, greatly due to the double cohort seeking accommodation as well as international migration.
The resale market will benefit from steady employment, job growth, and low interest rates.  More first time Buyers will drive the market, many of whom are part of the echo boomer cohort.  This demographic will propel sales under $250K, especially in areas of East London, and in St. Thomas.
a 1.5% appreciation in value is expected in the first half of 2015, with slowed growth as the year progresses.  This will spur sellers to respond earlier in the year and will lead to greater inventory.
The resale home market is expected to slow in the later half of 2015 due to increased mortgage rates and slowed demand.
Forecasted Interest Rates:  2015 — 1 yr: 3.2%-4%; 5 yr: 5.25%-6%.  2016 — 1 yr: 3.7%-4.6%; 5 yr: 5.55%-6.45%
The latest report published by Re/Max Canada provides additional insight into London's local market:
There is much to anticipate for London's real estate market in the year ahead. Sellers remain optimistic and Buyers are eager to capitalize on many opportunities available.  The low Canadian dollar, low interest rates, a strengthening economy, as well as affordable housing all contribute to a healthy, balanced market expected in the months to come.  a 2-3% increase in prices is expected for the year, bringing the average price of a residential property to approximately $260,500.
2014 Overview:
London experienced a stable market through 2014.  Though there was a slow start to sales levels in the first quarter, greatly impacted by the long winter and heavy snow accumulation, activity surged through the summer and into the fall.  Many months recorded better sales levels compared to their respective months in years past.  Especially noteworthy was June, seeing a 23.4% improvement compared to its sales activity in 2013, and July, with a 24.4% increase in sales over 2013.  Sales were higher in 2013 than what has been noted since 2007, indicating a "strong, steady, and sustainable recovery" since we saw the economy slow in 2008.  An average price increase of 3.4% was noted for the average residential property in London.  More details are available from the London and St. Thomas Real Estate Board.
Spring 2014:
Although it was a slow start to the typical burst of activity we see early in the year, London's Real Estate market has been heating up quickly.  Pent up demand resulting from an untypically long and cold winter has kicked sales into high gear.  In March, detached home sales were up 10.7%, and the condominium market saw a 0.9% increase in activity.  Prices continue to climb, with the average detached home in our region sitting at $269,497.  Compared to the previous statistics in February, this is a 3.5% increase.  The average price of a condo is $181,282, a 1.6% increase since February.  London and area continues to lead to pack regarding affordability, relative to other major Canadian cities.  We can expect to see a balanced market continue as momentum continues in the coming weeks.  A full report can be found on The London & St. Thomas Association Of Realtors website.
January 2014:
London's real estate market was off to a slow start overall, thought this isn't entirely surprising.  The arctic temperatures and extreme snow fall are likely to blame in part, causing a lack of motivation.  The two-storey home proved to be London's best seller in January, followed by the bungalow.  London maintains a high ranking as a very affordable city, with an average price of a detached home sitting at $262,632, a 0.4% increase since December.  Based on the sales to listings ratio, we can expect to see a balanced market to continue through the year.  Many opportunities continue to exist, despite what our regional statistics report, and the forecast is optimistic in the months to come.  Further information can be obtained via the London & St. Thomas Real Estate Board.
Although a national perspective (which doesn't always accurately reflect London's housing market), the Canadian Real Estate Association offers a look at what the Real Estate Industry looks like currently across Canada.  Click HERE for a short presentation.
CMHC MARKET OUTLOOK (Fall 2013):
London is expected to see a balanced market in coming months, heading into 2014.  Overall, activity is described as "normalized."  The average price of a home in the Forest City sits at approximately $247,000, and the coming year proposes a growth rate of 2% overall, with prices to increase 2.3% to $252,000.  St. Thomas continues to offer a financially attractive housing option with prices sitting about 30% less than in London.  Mortgage rates are expected to increase gradually, though they will remain historically low.  For a full report, click HERE for details, statistics, and further information.
HOUSING NOW – LONDON (CMHC, 4th Quarter, 2013):
Statistics continue to point towards a balanced market.  Renewed confidence from Sellers shows strong listing growth.  Gains in the high end market are also noteworthy, likely due to the stability of higher-wage employment, low mortgage rates and an improved economic outlook.  Overall, the market has been unaffected by mortgage rate increases.  To review this report, click HERE.
REMAX HOUSING MARKET OUTLOOK – 2013:
A positive forecast exists for London's real estate market in the year to come.  Economic stability has led to increased consumer confidence, propelling the industry ahead.  Prices are expected to increase by 1%, bringing the average list price to $242,000.  Click HERE for the full report, and check out page 28 for details on London/St. Thomas.
CMHC MARKET OUTLOOK (Fall 2012):
London is expected to see a slow start in real estate sales for 2013, with an increase in activity as the year progresses.  This is greatly due to economic growth and regained stability, though tightened mortgage rules will impact movement for the immediate future.  Overall affordability (relative to many other Canadian cities) will help price growth to be stronger than in Ontario as a whole.  A balanced market is expected to prevail, though price increases will be modest at less than 1% growth for the coming year (compared to 3.3% in 2012).  Click HERE for the full report on London.
Click here to read the full News Release of LSTAR for April 2012.