The Canadian real estate market has seen lots of action over the course of 2015.  Home prices continue to climb as momentum continues to build. Housing market trends indicate that the London Ontario real estate market has fully recovered since the economy crashed in 2008.  Buyer confidence has returned, a stable economy has propelled sales and historically low interest rates have boosted activity.
For a consumer in London, Ontario, what does this mean? What is the average home price in London?  Here are some numbers at a glance to put housing prices in perspective:
840 homes were sold in September 2015 in the London
Sales were up 23.2% for this time compared to last year
Overall, sales have increased 10.8% over 2015
Average price for a detached home stands at $282,241 (year to date for 2015)
Prices, on average, have increased 4.3% for a detached home
Average price for a condo stands at $191,197 (year to date for 2015)
Prices, on average, have increased 4.6% for a condo
Considering all real estate inventory in the London/St. Thomas region, sales show a 4.2% increase
Average price of a 2 Storey currently sits at $364,710
Average price of a Bungalow currently sits at $205,910
Average price of a Ranch currently sits at $318,393
Average price of a Townhouse currently sits at $154,951
London property values continue to be deemed very affordable relative to other city-centres in Canada (see image for a snapshot of how London compares!)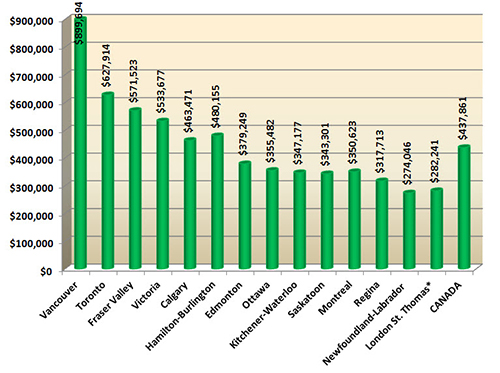 There's no doubt about it, the London housing market has experienced amazing growth, and continues to track at an unprecedented pace.  Rising property values are beneficial to sellers, and increased sales spur the economy in abundant ways.  There are great opportunities to be seized for both Buyers and Sellers in our region.
Check out statistics provided by our local real estate board for further info.